What are the different paper sizes that Orageuse offers, and what are they for?
Each sewing pattern is delivered with three different paper sizes files.
Paper size
Size of each page
Description
How do I print it?
A4
21 x 29,7cm
8.3''x11.7''
Multipage file (between 15 and 40 pages on average, depending on the design).
Pages are either in portrait or landscape layout. We choose the best layout for saving paper whenever possible.
On any mainstream printer. This paper size is the standard in Europe.
US Letter
21,6 x 27,9cm
8.5''x11''
Multipage file (between 15 and 40 pages on average, depending on the design).
Pages are either in portrait or landscape layout. We choose the best layout for saving paper whenever possible.
On any mainstream printer. This paper size is the standard in northern America.
A0
84,1 x 118,9cm
33.1''x46.8''
One or several pages (a maximum of three for large, complicated garments, such as a long, lined coat).
Requires a professional printer. At a printer's or at a copy-shop.
What are the features of our pdf patterns?
Always in black and white, to consume less ink and to be less expensive if you print A0.

The seven sizes are displayed so it is easy to adjust the size on the pattern pieces (if you are in between two different sizes for instance)

Every piece is clearly separated from the others on our patterns sheets. You can cut out immediately the pattern sheet you have just printed. Of course, if you wish to re-use the pattern later, you can always retrace the pieces.

The sewing patterns released from may 2017 have layered pdf files, so you can print only the size information you need.

All pages have a 1cm/0.4'' margin with a frame all around. We noticed that some domestic printers might not always print at the center of the page and could cut the lines that are too close to the edges of the page. On our sewing patterns, as long as the frame is visible, you are sure to have everything you need on every paper sheet.
Which patterns offer layered pdf ?
For now, only the most recent of our sewing patterns have layered pdf. When they do, it applies to all paper sizes (A0, A4 and US letter). We plan to update all our available patterns with layers, this list will be regularly updated:
| | | |
| --- | --- | --- |
| Collection | Name | Layers? |
| ÉCORCE | Acacia | yes |
| | Cèdre | yes |
| | Épicéa | yes |
| | Laurier | yes |
| MUSE | Prague | yes |
| | Amsterdam | yes |
| | Bristol | yes |
| | Bruges | yes |
| BOREALIS | Berlin | no |
| | Helsinki | no |
| | Riga | no |
| INDIAN SUMMER | Copenhague | no |
| | Lisboa (2018 version) | yes |
| | Londres | no |
| | Paris | yes |
| | Rome | no |
| | Kit doublure Londres | no |
| | Kit manches Paris | yes |
| | Kit manches Rome | no |
How do I download and open my newly purchased sewing pattern?
Once your order is complete, you will receive an email entitled "Your DD/MM/YY order on Orageuse is now complete – download your sewing pattern!". This email contains a direct link for downloading.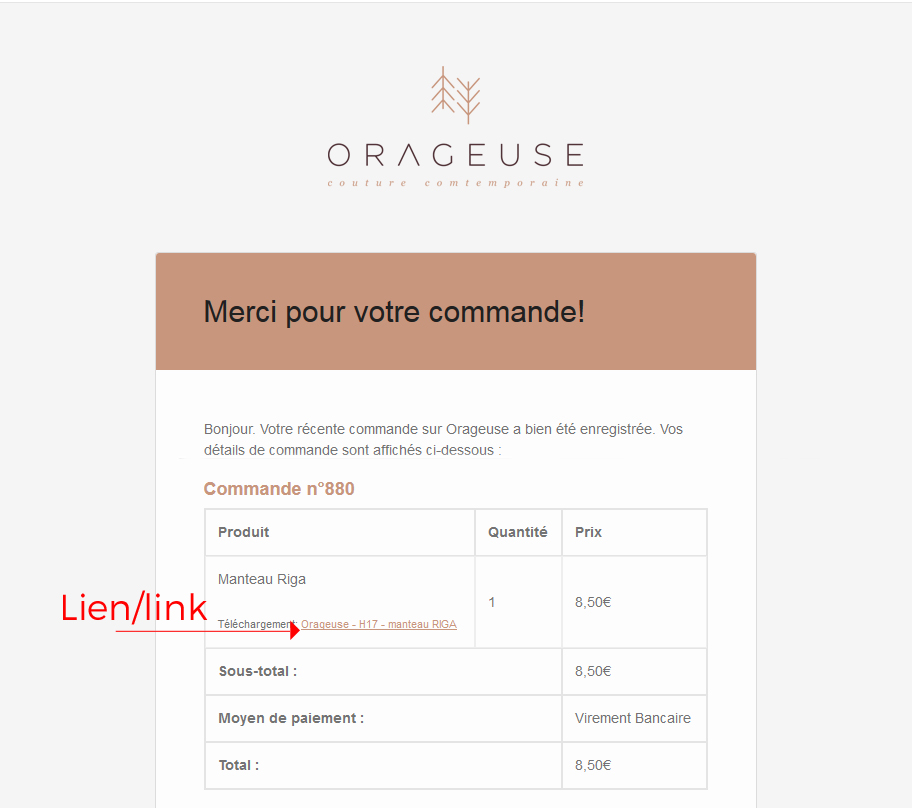 You can also find the downloading links by connecting to your account on www.orageuse.com/my account/my downloads.
We recommend you download from a computer (mac or PC), as smart-phones and tablets do not handle the zip format very well.
The downloaded file is a zip file. You have to unzip it to access the pdf files it contains. On your computer, double-click on the zip file. Your software (e.g. winzip or sevenzip) opens a window on which the pdf files are listed. Select them all and click on the "extract" button, choosing a destination file where you will store your sewing pattern on your computer.
Most of the computers come with software to open pdf files. If yours do not, you can install one for free, like Acrobat Reader for instance (available here).
Where can I have my A0 files printed (France only)?
| | | | | |
| --- | --- | --- | --- | --- |
| Name and link | Type | Price for one A0 B&W print | Volume discount? | Delivery |
| Expressplan | Only on line | 1,6€ | yes | Fast and guaranteed for the day following your order, before 01:00 PM – 7€ |
| Copysew | Only on line | 3€ | yes | "Lettre verte" (cheaper but not as fast, a few working days on average). |
| Copytop | Shops everywhere in France + on line shop | 11€ | Not for small quantities | To be picked up from your closest shop (2 to 3 days at least). |
Do you live in another country and/or have tips on this matter for our customers? Please feel free to reach us at (contact@orageuse.com) nd we will complete this list!
How do I print only the size(s) I need?
Your computer must have a pdf software that can handle layered files. We recommend Acrobat Reader, which is free and works for Mac as well as PC. (download here).
Layers in a pdf are like real life tracing paper. Imagine that you are holding seven sheets of tracing paper in your hand, all the same size, and perfectly lined up in a pile. On each sheet is the outline for one separate size. When all the pages are in the pile, you can see all the sizes. Just remove one or several of these pages, and the others will remain in their place, and all of them will be visible at the same time. This is exactly what you can do with our new pdf files (only available at the moment for the sewing patterns released as from May 2017).
In Acrobat Reader, click on the little arrow on the left hand border of the screen to open a panel.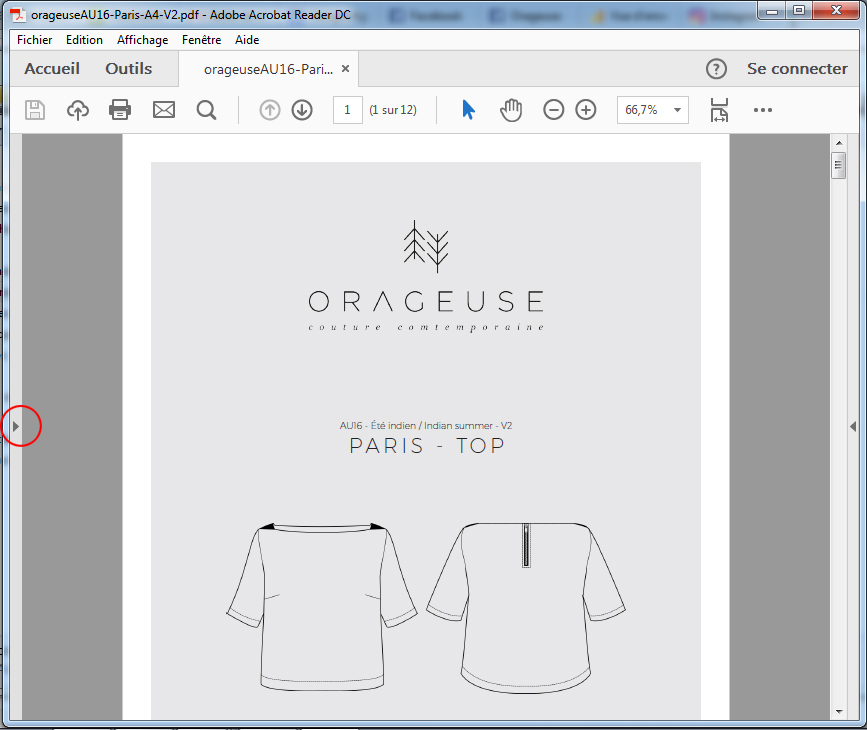 If the "layers" icon is not visible yet, right click on the panel to activate it.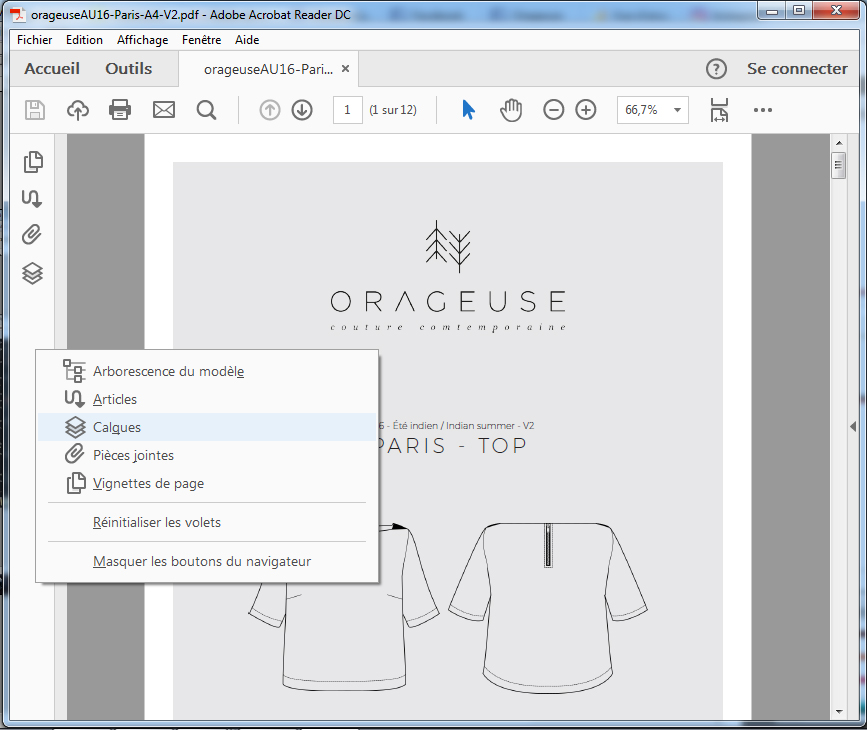 Click on this icon to open a second panel, then click on the little cross to the left of the name of the file. You can now see all the available layers.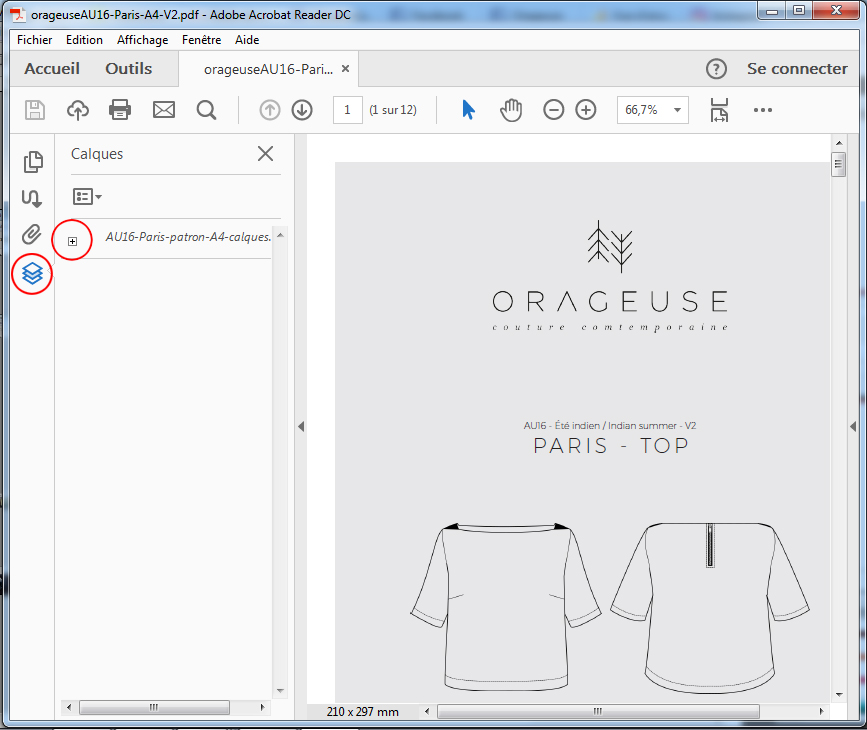 Every layer has an eye icon to the left of its name. To hide or show each layer, just click on this eye icon. When the eye is visible, so is the related layer. When the eye is not visible, neither is the related layer. Only visible layers will be printed.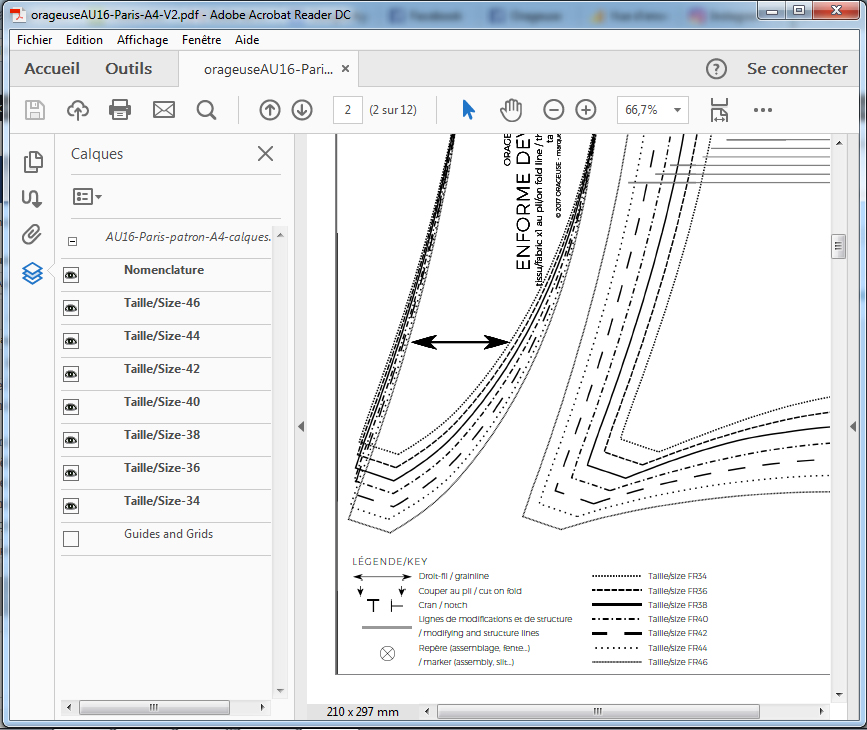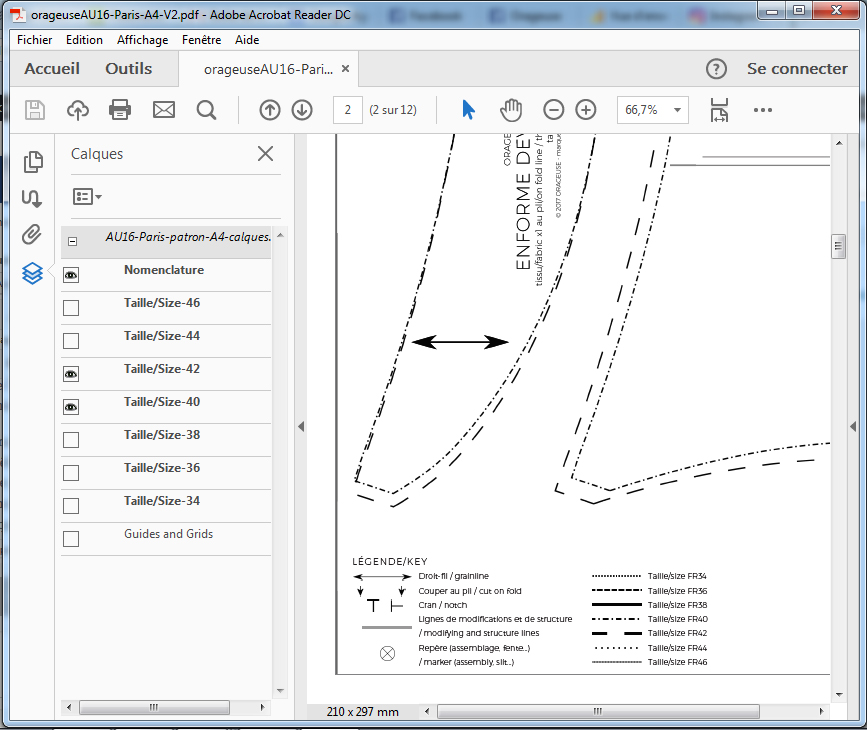 Always keep the "nomenclature" layer visible, as it contains info that is useful for every size.
How can I be sure to print my sewing pattern to the right scale?
Whatever your paper size is, you MUST print the pattern life size. If you do not, your finished garment will not be the right size.
When you print, choose "real size" or "100%" in the settings.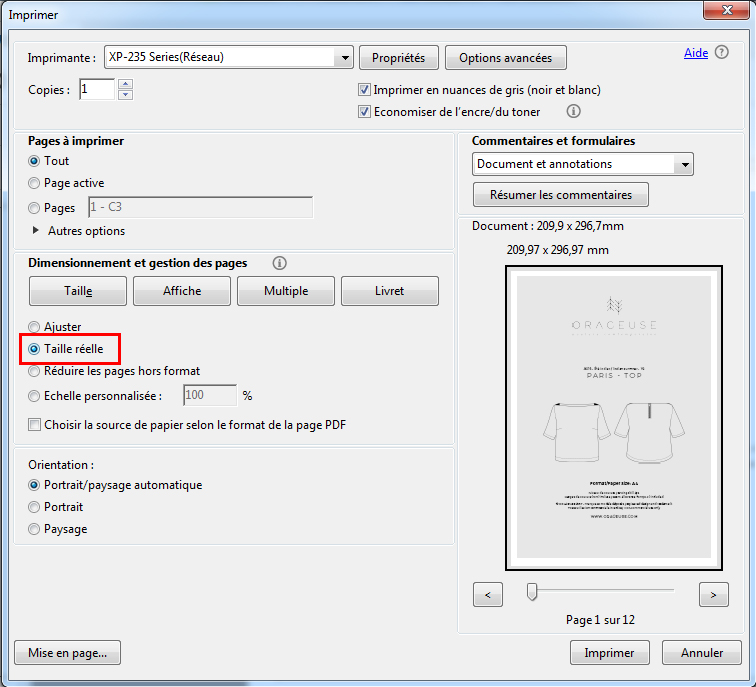 The A1 page of the pattern file contains a 4cm/1.6''x4cm/1.6'' square. Print this page only, and measure the square to confirm your printer settings.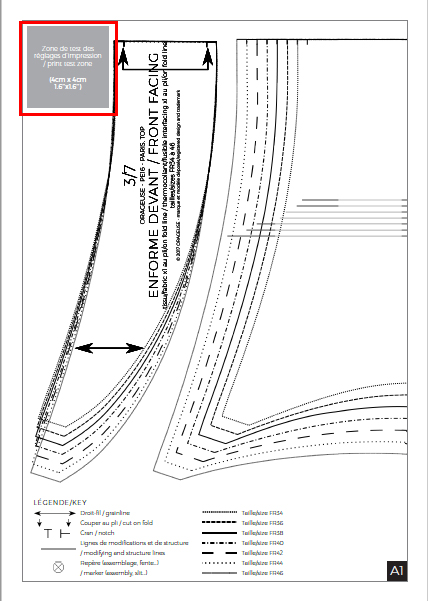 How must I assemble the different A4 or US Letter pages?
Once your pages are printed in real size, cut out the right and bottom borders of every sheet, following the frame line (it doesn't matter whether the page is in portrait or landscape layout).
Tape or glue the pages together, placing the right edge (cut) along the left edge of the frame of the next page (A1 on A2, A2 on A3 etc.). Do the same from top to bottom (A1 on B1, B1 on C1 etc).
You do not need to try and assemble the whole sheet. It is easier (and more accurate) to assemble several groups of pages together.
Saving paper and ink
When there are different versions of the same sewing pattern (for example in our Berlin skirt pattern), we placed pattern pieces on the sheet so that you can print just the pages you need for the short version, in order to save paper. When we did that, a box shows you which pages to print depending on which version you print.