The Spring is soo sunny here in Paris, that we crave for light and flowy fabrics and new outfits, light as a feather and in soft shades… Here are three ideas, plus a mini tutorial at the end. Enjoy 😉
Pair our Bruges trousers with a flowing Londres trench-coat. Add a light and loose top, and you are all set! Spicy colours like brown shades match very well with black and white. A touch of blush pink and the result will be fresh and simply feminine!

Update your Prague blouse for the new season

You already own a Prague blouse pattern? Good for you! Cut the sleeves just above the elbow, hem them straight or add an elastic band, and you will get something close to those inspiration pictures:

Want to add some gathers at the center front, like on our images above? Here is a mini tutorial to help you with it!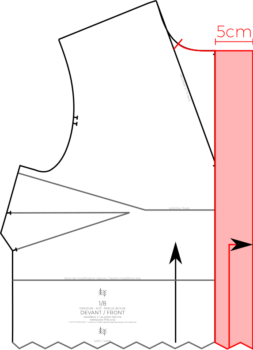 We will now add some more fabric to give the volume needed to create gathers. The amount of extra fabric depends on how you want the gathers to be (many or just some). In our example, we add 10 more centimeters. To do so, we added 5cm on the center front of the front pattern piece (since this piece is cut on fold line).

You now just have to cut your fabric front piece on fold line following this new outline. Put in two gathering threads above a below the future seam between the two markers you have created on the neckline (step 1). Pull these threads and create gathers until the length between the two markers is 10cm (which is the total width we chose for the gathers in the first place). Be accurate there, or else the collar will not match the front of the blouse anymore. Distribute the gathers evenly, and stitch in the seam allowance to keep the gathers into place.